PELL CITY BEACH

Pell City/Logan Martin Lake could become the home of the
LARGEST WHITE SAND BEACH IN ALABAMA,
north of Gulf Shores.

A more beautiful setting for "PELL CITY BEACH "
could not possibly be found than that
situated on the massive shoreline at the "point"
behind our Civic Center and adjacent to "Lakeside Park".

The lay of the land/shoreline and lake bottom in this area
is perfectly suited for beach placement.

Construction of the basic beach would consist of:
(the following recommended tasks have been altered/updated in order to conform to ongoing construction/landscape changes)

1. Determining beach length/width ----- ideally, length should extend well around both sides of the east-west running land point to a point 50 feet nothward on each side. The width(depth) of the beach should be at least 200 feet at and near the point and 100 feet, elsewhere.

2. Removing underwater bridge structure located approximately 300 feet south of point. (to be considered at some future date)

3. Landscaping the beach area, a minor job since the land needs little improvement. It would involve removing 371 cu yds of shoreline dirt and grading to a gradual slope; a slope, gradual enough to allow water action to build/maintain sand in place, as opposed to a steeper slope that would erode.
(Alabama Power Company has indicated tacit approval of the removal of 371 cu yds of dirt, to be replaced with white sand, recommended that the current boat ramp on the point be closed, that crosstie pilings be removed and that no grading of dirt into the lake would be permitted)
Prevailing wind in this area is landward, which would allow wave action to redeposit sand and maintain the beach in place.

4. Hauling in white sand (available at local quarries) and placing at a 1 foot depth on land and well into the water, especially at the area of the beach point.

To the basic beach could be added:

Additional parking

Bathhouse - w/water/sewer/septic tank/(city sewer?)

Food/drink concession

Shade cabanas

Pavilion (future)

This feat would not be a bugdet buster and would probably sustain itself financially via possible admission/vending/concession income.

Additional thoughts:

City liability is expected to be a first concern -- however, Pell City, being on the threshold of massive expansion in all areas, has reached a point where liability should not be a cause to shy away from normal "resort city" vulnerabilities -- it now should be just another budget item.

None of us can begin to fathom the recreational demands that will accompany the area's future exponential growth. To meet this demand, we should attempt to expand existing rec area lands immediately and in my opinion, build a large beach/facilities now so as to alleviate having to continue to expand/rebuild in the future. Beach construction costs being minimal as compared to other rec facilities will allow this larger, more favorable approach.

Recent discussion of the formation of a Water Rescue Unit to possibly be positioned near the Civic Center "point" may lend itself to providing beach patrol/monitoring.

It may be advantageous to visit selected "resort cities"/"lake beaches" in order to glean administrative/legal/management information, first hand.

I feel that "PELL CITY BEACH" could become a reality in the near future, considering that we now have on board, a dynamic and "forward looking" administration. This is our hope.

"IT COULD HAPPEN!!"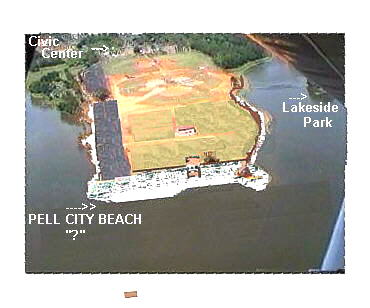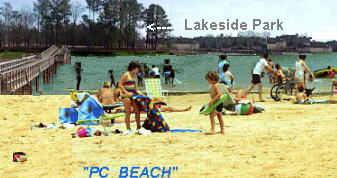 PC BEACH
(On the Point Behind the Civic Center)
(beach superimposed)
Thanks for visiting --- "?? PELL CITY BEACH ??"

PROGRESS REPORT
Progress towards "PC BEACH" becoming a reality will be updated here and via the "Comments Board" --

To date, the beach proposal having been offered to the city council followed by a meeting with an established beach committee has been met with minimal interest - at a time when the city is "bursting at the seams" with welcomed ongoing projects initiated by "big money" industry and projects of much greater magnitude --

Citizens interested in a "PC Beach" are encouraged to let their desires be known via media, civic organizations and contact with political representatives and our city council:
Phone City Council - 205 338 3330
Email Mayor/City Council

Thanks to "stclaircountyal.com" and the "DAILY HOME"/"DAILY HOME Online" for providing great forums for we citizens to exchange our views on our city's welfare ---

And thanks to all the citizens who have commented - pro or con - via email, phone and the "Comments Forum" --

Please continue to provide input in "Comments" -- and look for progress reports -- Enter your email address in the block below and you will receive an email each time a comment is added ---

"I think I'll go to PC Beach" now -- set up my umbrella, get me a tan and watch the kids swim --- watch my teenagers meet up with their friends -- maybe walk over to the water pavilion, get me a hot dog and listen to that South Sea Island music - : = )

STAY TUNED --

"

Go to PELL CITY BEACH - Planning



"LINKS"

"St Clair County Alabama is Your Home on the Net (http://www.stclairco.com/)"

Alabama Power Company "Shorelines"

[ Previous Site | Random Site | Next Site | Index of Sites ]